Joomla! is an award-winning content management system (CMS), which enables you to build Web sites and powerful online applications. Many aspects, including its ease-of-use and extensibility, have made Joomla! the most popular Web site software available. Best of all, Joomla is an open source solution that is freely available to everyone.
Joomla's powerful application framework makes it easy for developers to create sophisticated add-ons that extend the power of Joomla into virtually unlimited directions.
Joomla is the most popular open source CMS currently available as evidenced by a vibrant and growing community of friendly users and talented developers.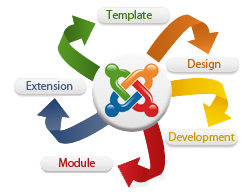 Easy Updates
One of the big challenges with any software is keeping it up to date. Fortunately, Joomla! has a "One Click Version Update"
Multilingual
Joomla! is the most popular and widely supported open source multilingual CMS platform in the world, offering 66 languages.
Integrated Help System
Joomla! has an in-app contextual help system to help every level of user to operate their Joomla.
Free Consultation
Get Started with a FREE Consultation Today